Regular price
Sale price
$13.99 USD
Unit price
per
Sale
Sold out
Description
NAME: Sensationnel Synthetic Instant Pony – AFRO PUFF LARGE
COLOR SHOWN: 1B
MATERIAL: Synthetic
TYPE: Ponytail
LENGTH: Short
HEAT SAFE:
DESCRIPTION:
100% premium fiber
Sensationnel style in 60 seconds
Made with tight afro curls for natural styling, and this item is perfect for the hot summer season
MAINTENANCE
Fill a basin with cool or lukewarm water.
Add a small amount of mild shampoo. Swish wig gently in the basin.
Rinse thoroughly in cool water.
Shake out and drip dry.
Do not brush, blow dry or heat style while wet — this can permanently damage the fiber.
No setting is necessary as curls will snap back into position when hair is completely dry. Style as desired.
OR
MAINTENANCE
• Gently detangle the hair from ends to roots using a paddle brush or wide-tooth comb.
• Turn the wig inside out and wet the hair with lukewarm water from the top (cap) to reduce tangling.
• Apply shampoo in a downward motion and rinse until water runs clear. Do not rub the cap when washing.
• Turn the wig cap back and repeat the above steps with cold water when applying conditioner.
• Gently squeeze out excess water and pat dry with a towel. Do not roll or rub the hair into a towel.
• Place the wig on a wig stand and air dry. We recommend using a smaller head size to avoid stretching the cap.
• Apply a small amount of hair lotion or serum, as needed.
• If applying glue or tape, be sure to only apply on lace material.
Sensational Style in 60 Seconds
Larger Cap for Ponytail Styles
More Hair for More Volume
Quick and Easy Ponytail Look
STEP BY STEP INSTRUCTIONS
Pull your hair back into a bun and secure.
Cover the bun with pony cap and insert front comb.
Pull drawstring to secure the cap around the bun.
The style for the desired look.
Dimensions: 7 × 2 × 7 in
Share
Shipping

Please allow for 3-5 business days following your purchase for items to be delivered. Shipping rates and durations will vary depepnding on the package size and weight, and postal service convenience.
Return policy

Returns are only applicable in the event that the delivered item is damaged.
View full details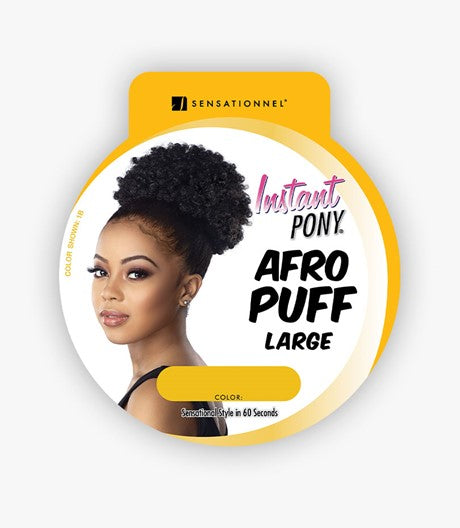 We at Mi's Beauty Supply are an enthusiastic company based out of the Treasure Valley, Idaho focused on bringing the best hair care and beauty products that inspire, uplift and allow you to be uniquely yourself with no apologies! We offer a diverse range of products that include braiding and weaving hair, styling and edge gels, foams, moisturizers, a variety of hair accessories, and more.